Innovate wealth management software with 1:1 adviser to client collaboration across all devices with Salesforce Financial Service Cloud.
Contact Us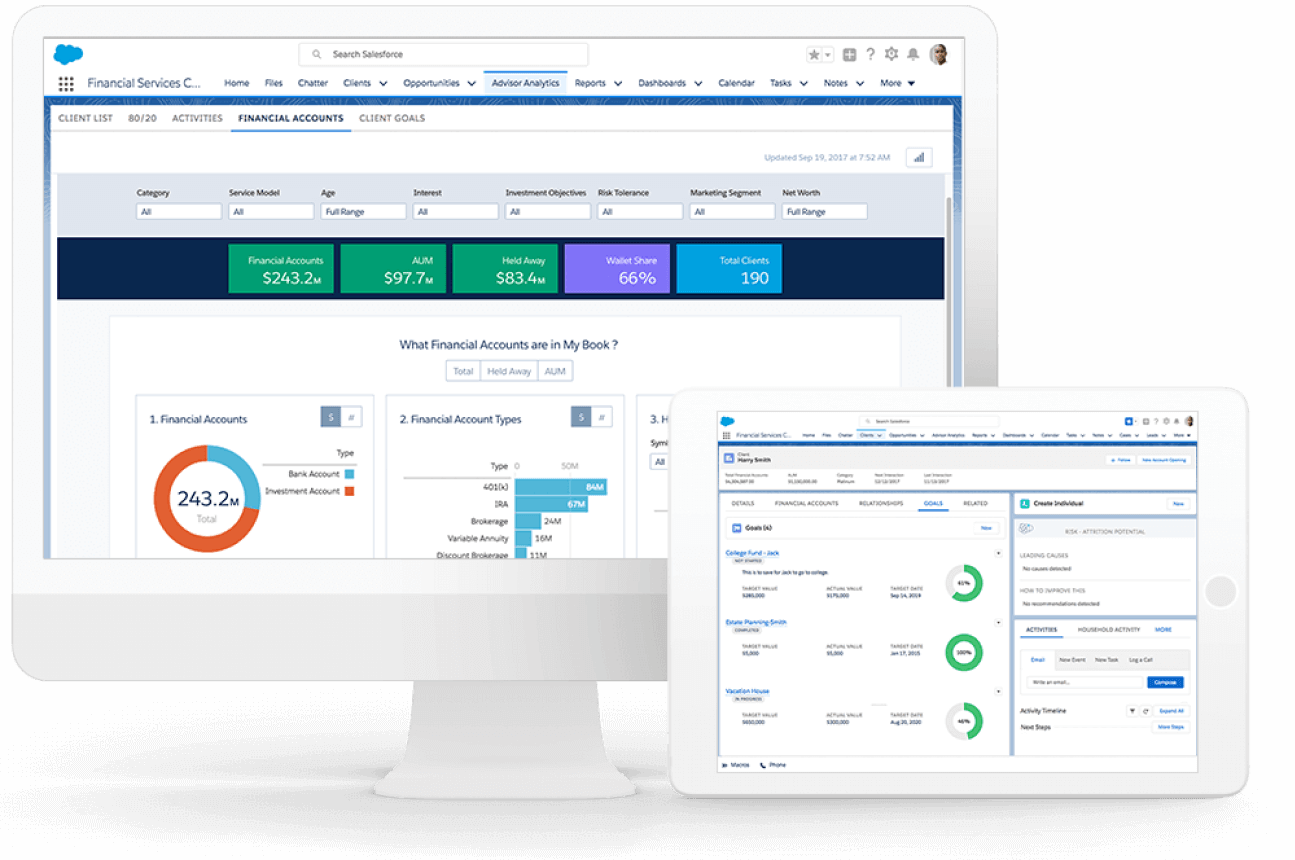 Salesforce Financial Service Cloud Transforms How Your Team Works With Customers
The Salesforce Financial Service Cloud and its asset management software centralizes all client data to provide more visibility into customer relationships. Organized customer data helps your business gain insights into your portfolio that creates new growth opportunities. With all client interactions recorded and managed in a single platform, you'll be better prepared to comply with regulations as well.
Commercial Banking App
Gain full visibility into your customer's business and commercial accounts with the Commercial Banking App. Focus on growing the most profitable relationships and integrate the customer on-boarding process.
Action Plans
Fulfill actions on behalf of your customers with an automated process that's more efficient and saves time. Leverage an Action Plan to create new tasks. Then, assign those tasks to other members.
Lightning Scheduler
Quickly and easily book appointments integrated into calendaring Salesforce workflows. Agents and customers can directly book meetings through their desired channels.
Salesforce Surveys
Improve operations and the overall customer experience with branded surveys for personal and commercial interactions. Consolidate this feedback into reports and dashboards.
Establish Long-Term Relationships with Customers as a Trusted Financial Partner
Get to know your customers better than ever before. Understand their haves, wants, and needs to achieve their financial goals. With Financial Services Cloud, our clients gain full visibility of a customers' portfolio and drive customer loyalty with needs-based selling. Create positive customer experiences and increase customer value, all while providing proactive service across all your channels.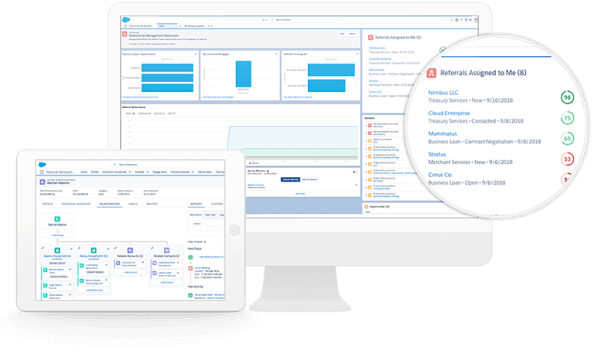 Wealth Management
Personalize interactions and plan around your client's goals to offer the best experience. Financial Services Cloud by Salesforce provides advisors with access to opportunities by building intelligent relationships with their client base.
Banking
Business bankers and retail gain insights into customer profiles for all products. Better data and insights allow employees to grow their pipeline with new opportunities, create value-based engagement, and create lifelong customers.
Insurance
Omni-channel integration for email, web, social, and more streamlines the customer experience. Customer service excellence from a single Salesforce instance.
Institutional Banking & Markets
The most reputable investment banks and firms rely on Salesforce for secure collaboration and integrated engagement with their clients. Don't waste time, increase productivity with Financial Services Cloud.
The World's #1 CRM Propels the Financial Industry with Salesforce Financial Service Cloud
Creating and maintaining a competitive edge is paramount in the wealth management marketplace. Providing a unique and personalized 1:1 relationship is the recipe for establishing lifetime experiences based on trust. Financial Services Cloud offers a complete view of your clients with advisor tools that provide rich data analytics that helps firms deliver a customized experience.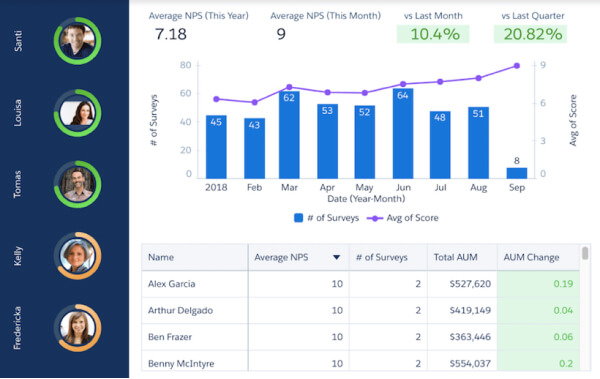 Personalize Relationships
Client Profiles collect financial account information, goals, and much more. Household-level Opportunity Rollups strengthen relationships with a full view of each opportunity within a member's ecosystem. Integrate clients into multiple households and business groups with Relationship Builder. Gain a better understanding of your network with Visual Relationship Map.
Customize Your Experience
Lightning App Builder lets you create the optimal user experience with easy-to-use components. Provide essential information to your clients with a secure platform using Customizable Communities. Data Integration ties your client's key data into partner systems via API.
Boost Productivity
Engagement Cards help you start every day with a detailed task list of primary events and opportunities. View client data across your entire portfolio with Integrated Client Dashboards. Collaboration tools establish a bridge between insurance agents, client associates, and more. Stay updated with Salesforce Inbox, with real-time Gmail and Outlook plug-ins.
Make Informed Decisions
Eliminate guesswork with Measurable Advice prior to advising. Separate your customers by their goals and investment vehicles, risk profiles, and much more. Track progress, activities, tasks, and calls with Actionable Client Insights that link to your specific clients. Increase leads and opportunity conversions with Pardot Marketing Automation.